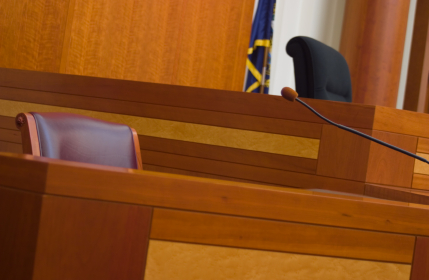 If you are charged with a crime and you do not have a lawyer when you attend Youth Court, you will need to arrive early enough to talk to duty counsel before you go in to see the judge. Duty counsel are lawyers who work at the courthouse. If duty counsel cannot represent you after the first day, they will give you information about how to get a lawyer free of charge through legal aid. For more information about free legal services, phone the Legal Services Society (the provider of legal aid) at 1–866–577–2525. Or visit the Legal Service Society website.
To learn more about the different levels of BC courts, visit www.CourtsofBC.ca. 
In Canada, people who are accused of breaking the law are innocent until proven guilty. This means that, by law, they are innocent until a judge or jury decides in court that they are guilty "beyond a reasonable doubt".
The Crown Counsel, a government lawyer, has to show that the accused person broke the law. Another lawyer defends the accused person. The judge or jury listens to both lawyers and then makes a decision. If the judge or jury cannot make a conviction beyond a reasonable doubt, then the case is concluded and the accused person is released from custody.
Which court hears my case?
The BC Provincial Court hears about 95% of all criminal cases – more than 100,000 each year. People over 18 years old are tried as adults in the Criminal Division of Provincial Court. However young people between the ages of 12 to 17 go to a separate division of Provincial Court called Youth Court. It hears cases involving youth who are charged with a crime. Children under the age of 12 do not go to court because they cannot be legally charged with a crime.
The most serious criminal cases, such as contempt of court, murder, manslaughter, aggravated assault, bank robbery, and major drug cases, are heard in BC Supreme Court. These cases are heard by a Supreme Court judge or by judge and a jury. For more information, visit the SupremeCourtBC.ca.
The Court of Appeal is the highest court in BC. Judges in that court hear appeals of both civil and criminal decisions. Judges in the Court of Appeal decide if there was an error in the application of the law when a case was first heard in Provincial or Supreme Court. Usually, three judges hear each case. Both sides argue the merits of their case, but no new evidence is permitted and no witnesses appear. For more information about courts, including the Court of Appeal, visit the Courts of BC website.