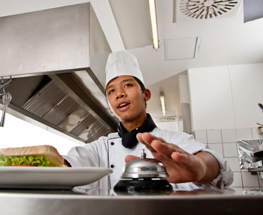 You can get a job without your parents' permission as soon as you turn 15. Children between 12 and 14 need their parents' permission to work and can't work when they are supposed to be in school.
Children under 12 years old can't be employed without a child employment permit issued by the Director of Employment Standards.
There are exceptions to some of these rules, such as for  kids working in the entertainment industry.
For more information, see Work. The BC Government publishes a fact sheet on the Employment of Young People.
Babysitting
There is no law that says when you are old enough to babysit. Parents who are looking for babysitters are responsible for making sure their children are properly taken care of and it's up to them to make a decision about whether or not you are old enough to babysit. Some parents will only hire adults to take care of their children, others are willing to hire teenagers, particularly to look after older kids.
In deciding if they should hire you as a babysitter, a parent might consider:
your age and how mature you are maturity
how many children they have and how old they are
what babysitting experience you have
how long you will be babysitting
whether there are adults nearby to call in case of an emergency.
If you are interested in babysitting, consider taking a babysitting course. The Red Cross offers a babysitting course is for youth who are 12 and older. You can learn more about the course on the Red Cross website.
If you do get hired as a babysitter minimum wage laws do not apply. That means what you get paid is up to you and the parents hiring you to decide. Parents who hire you as a babysitter should give you clear instructions about caring for their children and be home when they say they will. If you are uncomfortable in someone's home or don't think they are treating you fairly, don't take the job!